BACK
15 Podcasters and Scents to Boost Your Mental Health | Aromatherapy and Meditation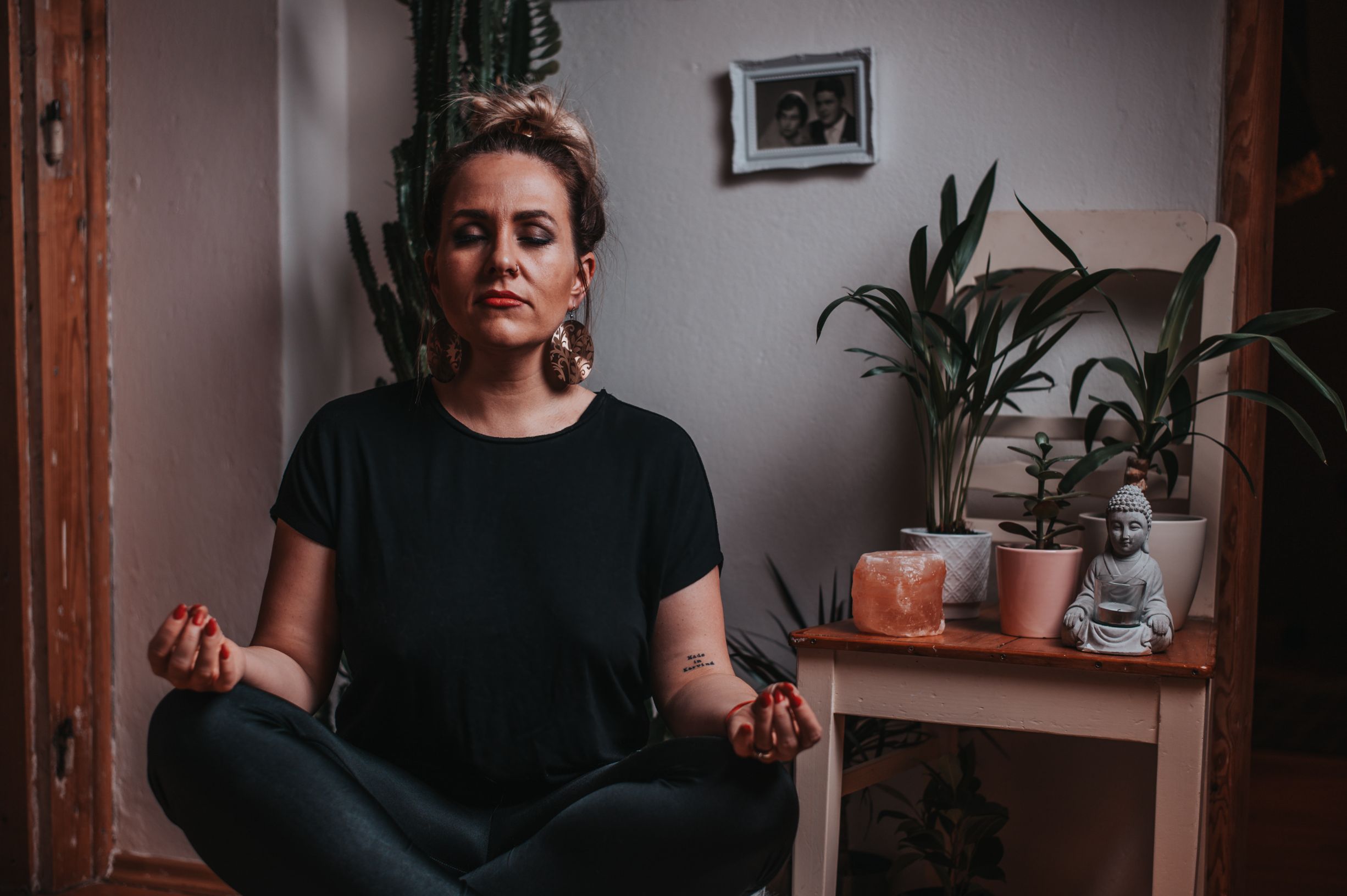 Today, when we hear the word meditation, most of us picture the popular image of Buddha, the god of Buddhism, in his famous cross-legged sitting position. We may even imagine being along a peaceful river surrounded by butterflies under a clear, blue sky.
But, for many of us, meditation is simply sitting or lying down in a comfortable position. Perhaps with a scented candle lit close by and a guided meditation podcast.
Over the past few years, the art of meditation gained massive popularity along with technological innovations such as streaming services. (Did you know there's an interactive meditation guide on Netflix?)
Because more and more people are finding peace in meditation, many meditation coaches or gurus are expanding their platforms. One of the most effective channels they help people (for free) is through podcasts on Spotify, Apple, and Google Podcasts.
There are hundreds of podcast channels on the mentioned platforms, so it can be overwhelming for one to find a podcaster that suits their needs at a given point in their lives. So, in this blog, we will be looking at 15 different podcasters and see their specialties and how they can add great value to your daily meditations.
Being guided through meditation by a Tibetan Monk must be a whole different experience on its own. Stephan Wormland, the podcaster, has an MA in clinical psychology and spent 11 years as a Tibetan Monk. Given his expertise in western psychology and experience in traditional Buddhism, Stephan has formulated the perfect mix of both worlds, which he shares with listeners.
I find that this podcast goes well with our Fireside Vanilla Wax Sprinkles. Its smoky vanilla scent and notes of cedarwood and bourbon soothe the body and mind, especially after a long day.
This award-winning podcast hits the airwaves of more than 400 public radio stations in the USA. Every week, Krista tries to answer questions of hope, love, fear, and everything else we humans can mull over. She also invites prominent people such as advocates, writers, and psychologists to discuss different topics that are tasteful for everyone.
I've always enjoyed this podcast with the refreshing scent of Garden Lilac. It's sweet, herbaceous, and I think if love had a scent, this would be it.
The University of California, Los Angeles hosts a podcast twice a week, which can be heard through their app called UCLA Mindful or streaming them on popular platforms. Drop-in Meditations are usually composed of introductory comments, a guided meditation, a quiet practice time, and closing comments. Drop-in Meditations exist to full the vision of mindfulness being a refuge in our challenging times. You visit their website to get a link to participate in their guided meditations via Zoom.
It's best to keep the room and smelling great while listening to this podcast. Lavender has always enhanced my focus and I know it will work with you, too. Check out Pink Zebra's Lavender Air Care.
A Quiet Mind was founded in December 2005 by Robert Jackson. The podcast that continues strong until today strives to answer questions on our very existence, identity, purpose, and destination. Robert also offers all this information in a format that lets the listener explore and practice having a quiet mind to cultivate peace and stillness.
This podcast pairs well with a solid scent like that of Pink Zebra's Mahogany wood. Earthy, smokey, and dark scents will help you achieve that grounded calm and stillness.
Meditation for Fidgety Skeptics. In 2014, Dan Harris authored a #1 New York Times Bestseller book called 10% Happier. The book became the foundation to what is now a sustained podcast that has helped hundreds, if not thousands of people, take control of the voice in their heads. The podcast has performed well since its release. It continues to garner thousands of listeners by featuring experts on almost every episode.
This podcast, along with our Morning Delight Wax Sprinkles will surely get your happy hormones pumping. Morning Delight features notes of jasmine, apple, and cucumber among many other crisp scents.
If you are looking for a podcast with a solid Buddhist background, this one is for you. Noah Levine, an esteemed author, leads the listeners to a simplified understanding of Buddhism and makes it applicable to our daily lives. So, if you want some dharma talk, you will surely find nuggets of wisdom from this podcast.
If Buddhism is about achieving inner piece, then the best scent to aid your meditation is one of our newest scents: Mystic Woods. It has foregrounds scents of ambered wood and vanilla musk, and an undertone of lemon zest.
Inspire Nation is a relatively new podcast show, but it still gained a lot of traction in its first few days upon its release. The show aims to put a smile on your face and cause that to ripple positively into your life. The host, Micheal Sandler, had his fair share of life experiences, having gone through 2 near-death experiences himself. Today, he uses his new calling to spark people's lives by having spiritual experts, doctors, and psychologists on his podcast.
I make sure to start my week with this podcast and it perfectly pairs with one of my favorite scents: the Rejuvenate- Eucalyptus & Evergreen. The blend of aromas will help you refresh your mind and body.
Matt D'avela is a familiar face for me. He has a Youtube channel with more than 3 million subscribers where he discusses minimalism, productivity, and self-development through bite-sized, well-explained videos. The Ground Up Show gives actionable and practical steps to self-development. Apart from The Ground Up Show, Matt also hosts a member-exclusive Secret Podcast. Prices are reasonable; check him out!
This podcast is best enjoyed with a pen and paper along with the soothing scent of Rustling Leaves. It brings the familiar scent of autumn on any season, any day.
Meryll Arnett, the host of The Mindful Minute Podcast, guides you through meditative sessions designed to blur the chaos of reality for a moment and bring you to a place of ease and happiness. Her podcast has been featured in CNN Headline News, and she also teaches meditation classes since 2010. She uploads one episode per week, so it works great for beginners not yet ready to commit a lot of time to meditate.
For this chunky podcast, I would recommend Pink Zebra's Harvest Cheer. The fragrance of cherry, sandalwood, with hints of floral pine is guaranteed to paint a smile on your face.
One of the most important basic human needs is rest, and we get a lot of that when we sleep. In fact, many diseases are attributed to a chronic lack of sleep. Guided Sleep Meditations are a mixture of bedtime stories, sleep hypnosis, and sleep meditations to help you get the snooze you need. They also have daytime meditations for when you need to calm your thoughts any time of the day.
For this podcast, I would recommend a scent that makes me feel rested and calm. It's Pink Zebra's Aspen Pine—woody, a bit smokey, and with hints of clove and orange.
Renowned author Gretchen Rubin delves into what happiness really is and how do we achieve it. With the materials she has prepared, you can personalize your learning about and attaining happiness. Her in-depth and radical ideas on happiness and joy can impact how you live and view your day-to-day life.
I feel happier indeed when I listen to this podcast with Pink Zebra's newest addition to its catalogue: Blackberry Buttercream Frosting. It's as good as it sounds, like a cake for your nose.
This podcast aims to help you sort through your thoughts, avoid dysfunction, handle stressful situations with grace, and live unapologetically. The past 2 years have been quite a challenge for all of us, and this podcast served as a solace for me. I suggest you give them a listen.
Reorganizing your thoughts is no walk in the park. Whenever I do so, I make sure that a sweet treat is there to soften the mood. Pink Zebra's Angel Grace does the trick with its fruity fragrances and hints of sandalwood and plumeria.
Yes Theory is a group of friends who took life to the next level by saying yes to all adventures offered to them. Their mantra: Seek Discomfort has proven to be a great tool for growth for millions of people around the globe. Their podcast is fairly new but has already amassed a great audience of listeners. They have episodes of chasing your dreams, fighting your anxiety, and even productivity.
I treat this podcast like a snack, so whenever I listen to it, I enjoy the fragrance of Peppermint Buttercream. It has a very rich layer of peppermint topped with a frosting-like sweetness that rounds the aroma greatly.
The host of this show, Giovanni Dienstmann, lives and breathes the mission of the Live and Dare podcast; a mastered mind is a mastered life. Like most podcasters in this list, he does not only rely on his own understanding of meditation and mindfulness but seeks the expertise of doctors and spiritual gurus to unpack the great mystery of our consciousness.
When I listen to this podcast, I imagine myself walking along the shoreline with a renewed understanding of life. This is why this podcast goes well our Himalayan Sea Salt Wax Sprinkles. The marine mist and floral notes of this aroma will help you picture the ocean breeze.
Dr. Caroline Leaf is one of the biggest names in Neuroscience and Cognitive Psychology. She uses her knowledge to give people wisdom about their minds and how to manage thoughts. Everything she discusses is backed by solid science. All the scientific phenomena are examined using a language that you and I can understand. She is my number one personal favorite podcaster.
Dr Caroline goes through some in-depth science on her podcasts, so I find that a focused mind helps me maximize the learning I can get from this podcast. And for that, I melt Pink Zebra's Juicy Orange Air Care.
That's it! All the scents I have mentioned along with many others are available in my shop. Click here and just search for the ones you like!
Image by: Jan Kopřiva, Unsplash